Do you love glitter?
Do you wear glitter any chance you get-even if it's not a "special" occasion?
Is your bedroom or bathroom (or both) covered with glitter?
Do you find random flakes of glitter on your boyfriend and
you know it's just from being around you?
then
YOU ARE A GLITTER GIRL!
This clique is for anyone who loves Glitter. If you would like to join, check out the rules, grab one of the codes, and join :)


::Rules::
1.) You must love glitter. (duh)
2.)If you have a website, post the code somewhere. Link it back here.
3.)No porn, hate or racist content on your site.
4.)You must give your email address.

Choose a code and upload it to your own server. If you direct link, you'll just get a litte box that says "tripod". If you would like to donate a code, that's awesome! Just email it to me @ glitter_queen3@hotmail.com. You will get credit, of course!
Link the button to: http://glitterqueen3.tripod.com/




thank you SO much Lyssie!!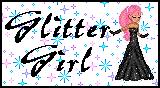 thank you for donating these, bonnie!!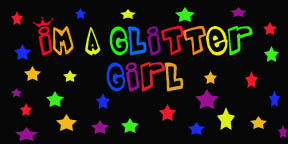 donated by pEa. Thank you! :)